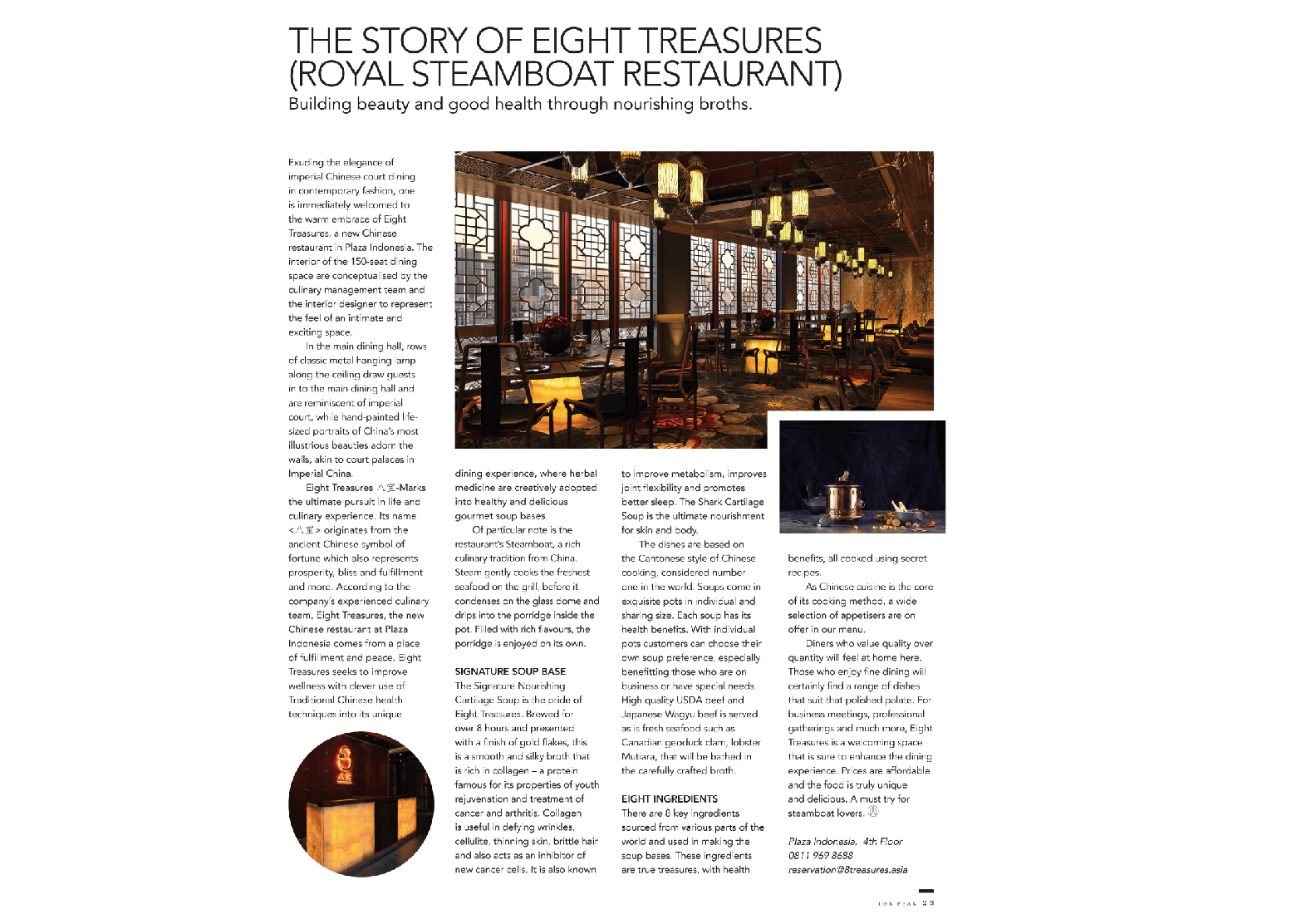 The Story of Eight Treasures (Royal Steamboat Restaurant)
06-Jun-2018
Exuding the elegance of imperial Chinese court dining in contemporary fashion, one is immediately welcomed to the warm embrace of Eight Treasures, a new Chinese restaurant in Plaza Indonesia. The interior of the 150-seat dining space are conceptualised by the culinary management team and the interior designer to represent the feel of an intimate and exciting space.
In the main dining hall, rows of classic metal hanging lamp along the ceiling draw guests in to the main dining hall and are reminiscent of imperial court, while hand-painted life-sized portraits of China's most illustrious beauties adorn the walls, akin to court palaces in Imperial China.
Eight Treasures –Marks the ultimate pursuit in life and culinary experience. Its name <> originates from the ancient Chinese symbol of fortune which also represents prosperity, bliss and fulfillment and more. According to the company's experienced culinary team, Eight Treasures, the new Chinese restaurant at Plaza Indonesia comes from a place of fulffillment and peace. Eight Treasures seeks to improve wellness with clever use of Traditional Chinese health techniques into its unique dining experience, where herbal medicine are creatively adopted into healthy and delicious gourmet soup bases.
Of particular note is the restaurant's Steamboat, a rich culinary tradition from China. Steam gently cooks the freshnest seafood on the grill, before it condenses on the glass dome and drips into the porridge inside the pot. Filled with rich flavours, the porridge is enjoyed on its own.
SIGNATURE SOUP BASE
The signature Nourishing Cartilage Soup is the pride of Eight Treasures. Brewed for over 8 hours and presented with a finish of gold flakes, this is a asmooth and silky broth that is rich in collagen – a protein famous for its properties of youth rejuvenation and treatment of cancer and arthritis. Collagen is useful in defying wrinkles, cellulitem thinning skinm brittle hair and also acts as an inhibitor of new cancer cells. It is also known to improve metabolism, improves joint flexibility and promotes better sleep. The Shark Cartilage Soup is the ultimate nourishment for skin and body.
The dishes are based on the Cantonese style of Chinese cooking, considered number one in the world. Soups come in exquisite pots in individual and sharing size. Each soup has its health benefits. With individual pots customers can choose their own soup preference, especially benefitting those who are on business or have special needs. High quality USDA beef and Japanese Wagyu beef is served as is fresh seafood such as Canadian geoduck clam, lobster Mutiara, that will be bathed in the carefully crafted broth. 
EIGHT INGREDIENTS
There are 8 key ingredients sourced from various parts of the world and used in making the soup bases. These ingredients are true treasures, with health benefits, all cooked using secret recipes.
As Chinese cuisine is the core of its cooking method, a wide selection of appetisers are on offer in our menu.
Diners who value quality over quantity will feel at home here. Those who enjoy fine dining will certainly find a range of dishes that suit that polished plate. Eight Treasures Is a welcoming space that is sure to enhance the dining experience. Prices are affordable and the food is truly unique and delicious. A must try for steamboat lovers.

Plaza Indonesia, 4th floor
0811969 8688
reservation@8treasures.asia
Latest Post
Located at Plaza Indonesia, Level 4, the restaurant's name ...

When opting for a Chinese meal, diners in Jakarta are spoile ...