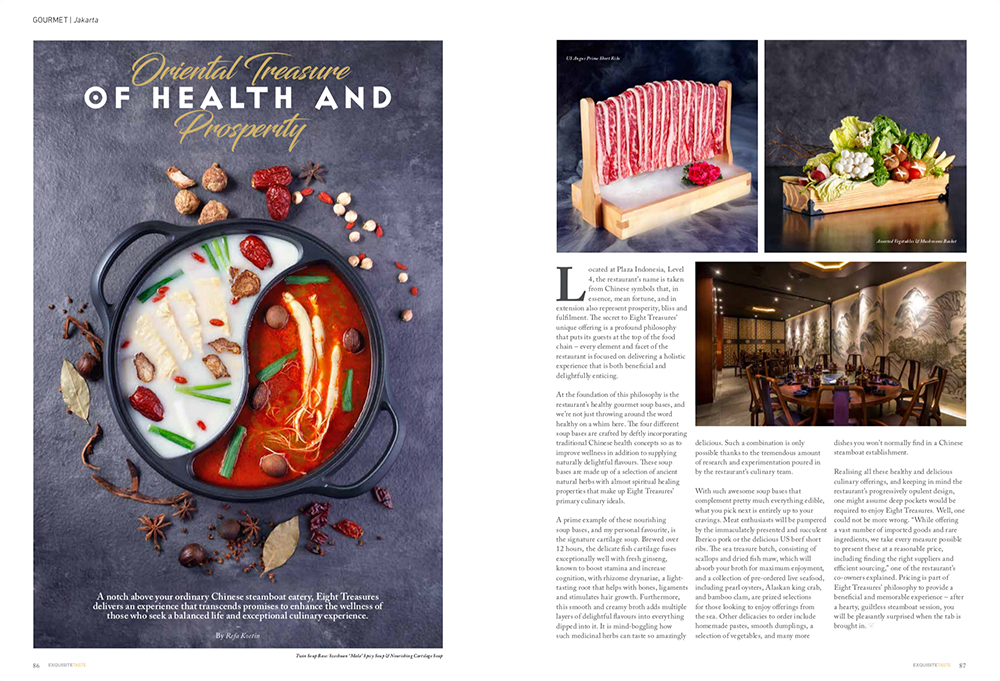 Oriental Treasure of Healthy and Prosperity
06-Jun-2018
Located at Plaza Indonesia, Level 4, the restaurant's name is taken from Chinese symbols that, in essence, mean fortune, and in extension also represent prosperity, bliss and fulfilment. The secret to Eight Treasures's unique offering is a profound philosophy that puts its guests at the top of the food chain – every element and facet of the restaurant is focused on delivering a holistic experience that is both beneficial and delightfully enticing.
At the foundation of this philosophy is the restaurant's healthy gourmet soup bases, and we're not just throwing around the word healthy on a whim here. The four different soup bases are crafted by deftly incorporating traditional Chinese health concepts so as to improve wellness in addition to supplying naturally delightful flavours. These soup bases are made up of a selection of ancient natural herbs with almost spiritual healint properties that make up Eight Treasures' primary culinary ideals.
A prime example of these nourishing soup bases, and my personal favourite, is the signature cartilage soup. Brewed over 12 hours, the delicate fish cartilage fuses exceptionally well with fresh ginseng, known to boost stamina and increase cognition, with rhizome drynariae, a light-tasting root that helps with bones, ligaments and stimulates hair growth. Furthermore, this smooth and creamy broth adds multiple layers of delightful flavours into everything dipped into it. It is mind-boggling how such medicinal herbs can taste so amazingly delicious. Such a combination is only possible thanks to the tremendous amount of research and experimentation poured in by the restaurant's culinary team.
With such awesome soup bases that complement pretty much everything edible, what you pick next is entirely up to your cravings. Meat enthusiasts will be pampered by the immaculately presented and succulenta iberico pork or the delicious US beef short ribs. The sea treasure batch, consistying of scallops and dried fish maw, which will absorb your broth for maximum enjoyment, and a collection of pre-ordered live seafood, and bamboo clam, are prized selections for those looking to enjoy offerings from the sea. Other delicacies to order include homemade pastes, smooth dumplings, a selection of vegetables, and many more dishes you won't normally find in a Chinese steamboat establishment.
Realising all these healthy and delicious culinary offerings, and keeping in mind the restaurant's progressively opulent design, one might assume deep pockets would be required to enjoy Eight Treasures. Well, one could not be more wrong. "While offering a vast number of imported goods and rare ingredients, we take every measure possible to present these at a reasonable price, including finding the right suppliers and efficient sourcing," one of the restaurant's co-owners explained. Pricing is part of Eight Treasures' philosophy to provide a beneficial and memorable experience – after a hearty. Guiltless steamboat session, you will be pleasantly surprised when the tab is brought in.
Latest Post
Building beauty and good health through nourishing broths.

When opting for a Chinese meal, diners in Jakarta are spoile ...