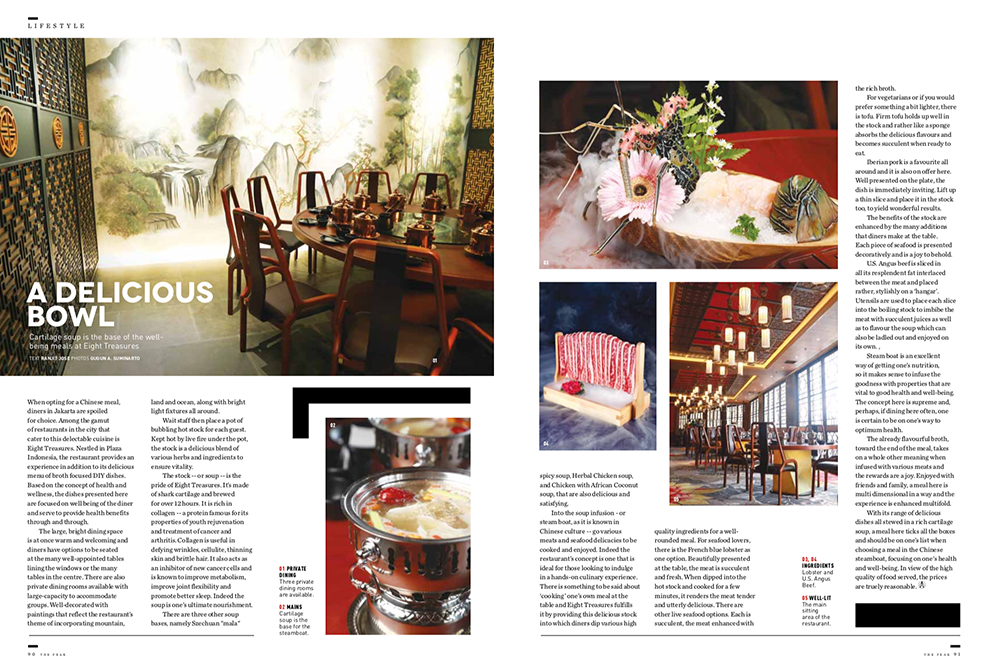 A Delicious Bowl
03-Jul-2018
When opting for a Chinese meal, diners in Jakarta are spoiled for choice. Among the gamut of restaurants in the city that cater to this delectable cuisine is Eight Treasures. Nestled in Plaza Indonesia, the restaurant provides an experience in addition to its delicious menu of broth focused DIY dishes. Based on the concept of health and wellness, the dishes presented here are focused on well being of the diner and serve to provide health benefits through and through.
The large, bright dining space is at once warm and welcoming and diners have options to be seated at the many well-appointed tables lining the windows or the many tables in the centre. There are also private dining rooms available with large-capacity to accommodate groups. Well-decorated with paintings that reflect the restaurant's theme of incorporating mountain, land and ocean, along with bright light fixtures all around.
Wait staff then place a pot of bubbling hot stock for each guest. Kept hot by live fire under the pot, the stock is a delicious blend of various herbs and ingredients to ensure vitality.
The stock -- or soup -- is the pride of Eight Treasures. It's made of shark cartilage and brewed for over 12 hours. It is rich in collagen -- a protein famous for its properties of youth rejuvenation and treatment of cancer and arthritis. Collagen is useful in defying wrinkles, cellulite, thinning skin and brittle hair. It also acts as an inhibitor of new cancer cells and is known to improve metabolism, improve joint flexibility and promote better sleep. Indeed the soup is one's ultimate nourishment.
There are three other soup bases, namely Szechuan "mala", spicy soup, Herbal Chicken soup, and Chicken with African Coconut soup, that are also delicious and satisfying.
Into the soup infusion - or steam boat, as it is known in Chinese culture -- go various meats and seafood delicacies to be cooked and enjoyed. Indeed the restaurant's concept is one that is ideal for those looking to indulge in a hands-on culinary experience. There is something to be said about 'cooking' one's own meal at the table and Eight Treasures fulfills it by providing this delicious stock into which diners dip various high quality ingredients for a well-rounded meal. For seafood lovers, there is the French blue lobster as one option. Beautifully presented at the table, the meat is succulent and fresh. When dipped into the hot stock and cooked for a few minutes, it renders the meat tender and utterly delicious. There are other live seafood options. Each is succulent, the meat enhanced with the rich broth
For vegetarians or if you would prefer something a bit lighter, there is tofu. Firm tofu holds up well in the stock and rather like a sponge absorbs the delicious flavours and becomes succulent when ready to eat.
Iberian pork is a favourite all around and it is also on offer here. Well presented on the plate, the dish is immediately inviting. Lift up a thin slice and place it in the stock too, to yield Wonderful results.
The benefits of the stock are enhanced by the many additions that diners make at the table. Each piece of seafood is presented decoratively and is a joy to behold.
U.S. Angus beef is sliced in all its resplendent fat interlaced between the meat and placed rather, stylishly on a 'hangar'. Utensils are used to place each slice into the boiling stock to imbibe the meat with succulent juices as well as to flavour the soup which can also be ladled out and enjoyed on its own.
Steam boat is an excellent way of getting one's nutrition, so it makes sense to infuse the goodness with properties that are vital to good health and well-being. The concept here is supreme and, perhaps, if dining here often, one is certain to be on one's way to optimum health.
The already flavourful broth, toward the end of the meal, takes on a whole other meaning when infused with various meats and the rewards are a joy. Enjoyed with friends and family, a meal here is multi dimensional in a way and the experience is enhanced multifold.
With its range of delicious dishes all stewed in a rich cartilage soup, a meal here ticks all the boxes and should be on one's list when choosing a meal in the Chinese steamboat, focusing on one's health and well-being. In view of the high quality of food served, the prices are truely reasonable 
Latest Post
Located at Plaza Indonesia, Level 4, the restaurant's name ...

Building beauty and good health through nourishing broths.